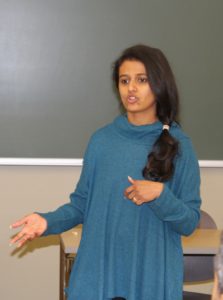 Darshi from Mumbai, India has been a freelance interior designer and a design consultant for approximately 10 years and has been an instructor/tutor for 7 years holding affiliations with Maharashtra State Board of Technical Education and Yashvantrao Chauhan Maharashtra Open University which provides Satellite-based education supported by the Indian Space Research Organization. She is also an appointed Discipline Leader for the collaboration of Interior Design Programs with Birmingham City University (BCU) in the UK.
Darshi's academic/teaching areas include Research Methodology, Interior Design, Interior Space Design, and Material Theory and Life Space Planning. She has been affiliated with Institutes of Fashion, Design and Technology and at the Rachna Sansad School of Interior Design. She completed a comprehensive teacher training program at Birmingham City University where she studied new strategies for bringing a paradigm shift in various spheres of Indian academics.
Darshi earned a B.Sc in Resource Management from Mumbai University, an M.Sc in Resource Management from S.N.D.T University which has affiliations with the Association of Commonwealth Universities and the Swedish International Development Agency, and she is a Fellow of the Institute of Systems Wisdom.
She is currently working on a dissertation to improve design education in India.